Zuckerberg is making a provocative point that wasn't in A World Without Work, the program we did a while back before there was any conversation here in the States about this basic income idea. My radar is out for what can shift mass consciousness and I tuned into this concept when it was being toyed with in a few foreign countries. Since then, it has become a topic of more and more conversation here that has some feel of being on the march to happening. If we had a system that's about taking care of everyone, it would be a huge step toward the caring world we want to be in.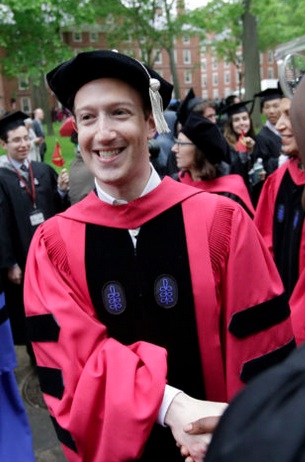 Facebook CEO Mark Zuckerberg greets graduating Harvard students as he walks in a procession though Harvard Yard at the start of commencement exercises Thursday. –Steven Senne / AP
Online voting. Personalized learning. Student loan relief. Higher taxes on the wealthy.
But of all the ideas he suggested, perhaps none were as radical or surprising as a thing called "universal basic income."
Zuckerberg said he never would've founded Facebook if not for his relative financial security, something other potential entrepreneurs may not enjoy.
"We should have a society that measures progress not just by economic metrics like GDP, but by how many of us have a role we find meaningful," he said. "We should explore ideas like universal basic income to give everyone a cushion to try new things."
So what does that mean?
Universal basic income is actually a pretty straightforward concept. And while there are varying degrees and iterations, at its core it's a proposal that the government provides every citizen a certain baseline amount of money, no strings attached.